'If you see something, say something' importance renewed
Various incidents at Dubuque Senior remind everyone about the importance of speaking up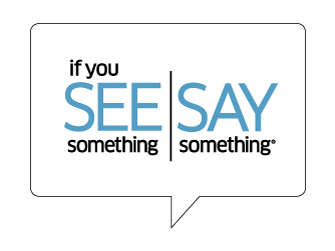 On September 24, 2018, a Dubuque Senior student was arrested for carrying weapons on school grounds. The student had an unloaded handgun inside of their backpack. The gun was confiscated, and the student was removed after a report from another peer. That same day, two juveniles trespassed onto Dubuque Senior's property. At the end of the school day, police investigated a suspicious car that was believed to have the 2 trespassers on the property and the school was placed on an external lockdown. The lockdown was lifted by the end of school hours. The same day, a threat was called into the police dispatch line, but was later concluded to be not credible.  
This was not the first incident of threats or violence against the school community.
On February 23rd, 2018, Dubuque Community Schools shut down. The district cancelled school the Friday of Snowcoming week based on a threat made to Senior. After social media traffic and widespread rumors, it was concluded that it was safer to not be in an educational facility. Police later determined the threat to be non-credible, but worry and tension throughout DCSD students, educators, and staff was incredibly heightened.  
As a response to school related violence in late 2017 and early 2018, a national walkout was planned for March 14th, 2018. This walkout had a lot more meaning for DCSD students after the incident in February.
On March 14th, 2018, hundreds of students at Senior and Hempstead walked out to protest gun violence in schools. Students protested lax gun laws and missed 17 minutes of class to remember the 17 victims of the Stoneman Douglas shooting a month after the deaths.  Several students also staged a walkout in support of the Second Amendment.
Our community needs to remain heightened and aware of our surroundings. Without acknowledgement about the situation our school could have been in, the risk of harm was real. District safety is of the utmost importance. 
Students are advocating for simple practices and more rigorous routines. Ideas suggested include Attendance Scan on IDs, where students have their ID scanned and recorded every time they enter/leave the building. Other students campaign for bigger moves, including bag checks and metal detectors, along with increased police presence at schools. Educators also stand with students, proposing bag checks and scanners for ID's.  
With awareness, we can solve the problem. If you notice a change in someone's words or actions, say something. Dubuque Senior needs to remain a place of respect, integrity, and excellence.  
Gun violence is a real, present issue within our community. Without all eyes on the problem, we cannot fix it. The solution starts within you.