College Application Campaign to be held October 17th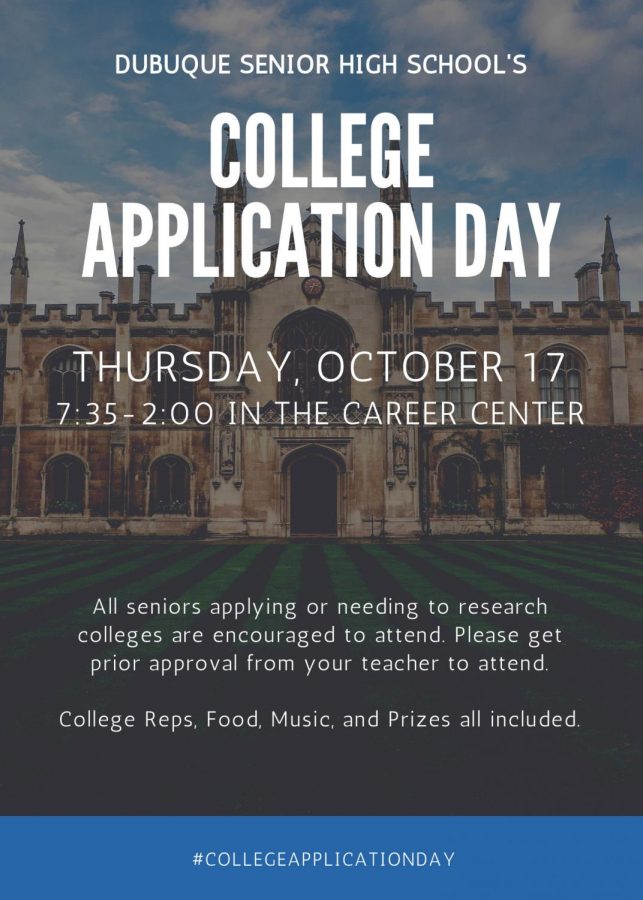 Class of 2020,
Have you started working on your college applications? Are you stuck and not sure where to even apply or how to start? Are you having a hard time finding time to get applications completed?
The School Counseling Office is hosting:
College Application Day
When: Thursday, October 17th 
Time: 7:35-2:00
Where: Career & College Center (School Counseling Office)
What: Come receive help from a counselor or local college representative, or simply, sit and work on college applications. We are here to help with application questions, essay questions/proofreading, scholarship search, FSA ID/FAFSA questions, or anything that may arise. 
Colleges that will be present:
Clarke University (Dubuque, Iowa)
Loras College (Dubuque, Iowa)
NICC (Peosta, Iowa and Calmar, Iowa)
The University of Iowa (Iowa City, Iowa)
University of Dubuque (Dubuque, Iowa)
UW-Platteville (Platteville, Wisconsin)
We will also have prizes, giveaways…and FOOD!
Student must communicate and receive approval from teachers prior to attending this event. 
Please bring any post-secondary questions with you to get answered on this day. We look forward to hosting this exciting event and seeing many of you on Thursday, October 17th!